Stitching Machine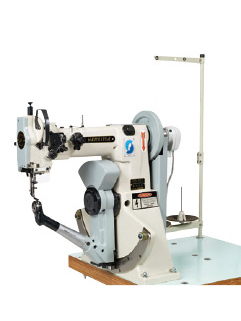 CP-161NF
Single Thread Chain-Stitch Seated Type Shoe Border Sewing Machine
Features
Can stitch up to 18 stands thread.
3 years warranty on horn part.
Immerse oil type lubrication system.
3 years warranty on tranmission gear under normail operation.
No thread ends at the beginning or the end of sitching.
Higher stitching speed.
Double shaft positioning thus improving durability of the main shaft.
Equipped with "Needle Feed" mode uniform stitch distance, Servo-motor, automatic fix needle and lifting charge feet.
Patened separable-type transmission pulley that will run 5 idle truns and cut off power when encountering any obstacles in operation.
Conventional bevel gear is easy to break ( currently adopted by other brands ), which is out of our range.